Security Technology made in Germany
Warning beacon RBL5 and accessories
Eye-catching flash light, proven 100.000 times, made of impact-resistant PC (Makrolon) and ABS.
110 mm diameter and 135 mm mounting height.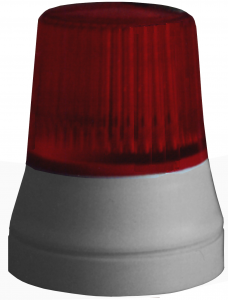 part-no. 116 ff, warning beacon RBL 5
approved by the VdS Schadenverhütung GmbH
- 12V DC, red lens, alarm systems intrusion class C
- special types available for authorized alarm systems
Many different other types available
- 12V DC, 24 DC, 230V AC supply
- 6 different signal colors: red, yellow, orange, green, blue, clear
Order number:
LED warning beacon, type RLL1 and accessories
Many different types available
- wide power supply range 9V DC to 36V DC
- or alternative with 230V AC power supply
- 6 different signal colors: red, yellow, orange, green, blue, clearavailable designs in 6 different signal colors:
| ITEM-NO.: | TYPE: | OPERATING VOLTAGE: | MODEL: | POWER CONSUMPTION (type): | DATASHEET: | DECLARATION OF CONFORMITY: |
| --- | --- | --- | --- | --- | --- | --- |
| 11820 | RLL1 | 9V..36V DC | 42 LED | 40...120 mA | Data_RLL1_eng | |
| 11810 | in Vorbereitung | 230V AC | 42 LED | | | |
Mounting bracket for RBL5 and RLL1
... for upright mounting on a vertical wall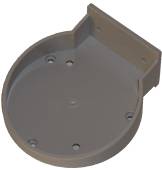 part no. 11600, mounting bracket
Metal basket for RBL5 and RLL1
...galvanised and powder coated
part no.11605, metal basket
For warning devices and signal lamps with up to 110 mm in diameter and 130 mm in height.
Warning LED beacon type RWL 11
... the big brother of warning beacon RBL5

- Especially eye-catching, large signal lamp
- Cover of impact-resistant PC (Makrolon) similar to RAL 2000 and lower part of ABS
- 146 mm diameter and 175 mm mounting height
- 48 super bright LED used by traffic lightings
Door Surveillance on the escape route
Alarm system for the door surveillance on the emergency exit
The FWS2020 can be distinguished by its characteristics and its design. The main fatures are are a metal housing, a bright LED flashlight and very loud alarmtone. The door is secured by a magnetic contact. The profile cylinder lock enables authorised persons to deactivate the alarm system or to use the door without triggering an alarm.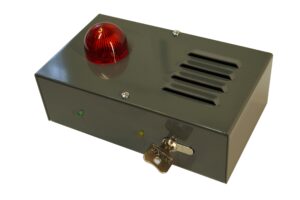 user manual
part no. S0008118G, type: FWS2020
Features:
- highly durable profile cylinder lock with magnetic switch contact
- easy connection
- metal housing, prepared for on-wall and in-wall wiring
- special functions integrated such as automatic activation
- special functions integrated such as automatic activation delay with coerciveness
- all devices are equipped with a red LED flashlight, a siren (105dB), a signal buzzer and a system-BUS
-connection facility for an external operating device with remote indication
-connection facility for magnetic clamp control
System extension with a central control panel
part-No. S0008119G, type ZAS 2020
user manual
features:
- Only 4 terminals! No problems by voltage drop through long wires
- Power supply and communication is conducted using one single wire (4 x 1,5 NYM – cable)
- Indication lights for "alarm", "door unlocked", "door locked"
- All connected devices can be manually deactivated from the control panel.
- Automatic individual door deactivation in case of an emergency with orientation guide
- The location of the emergency exit is signaled in emergency situations by the flashing light.
- Manual door activation from the control panel can be disengaged by the profile cylinder lock.
© Alfred Hermes -Nachrichtensysteme-  ()